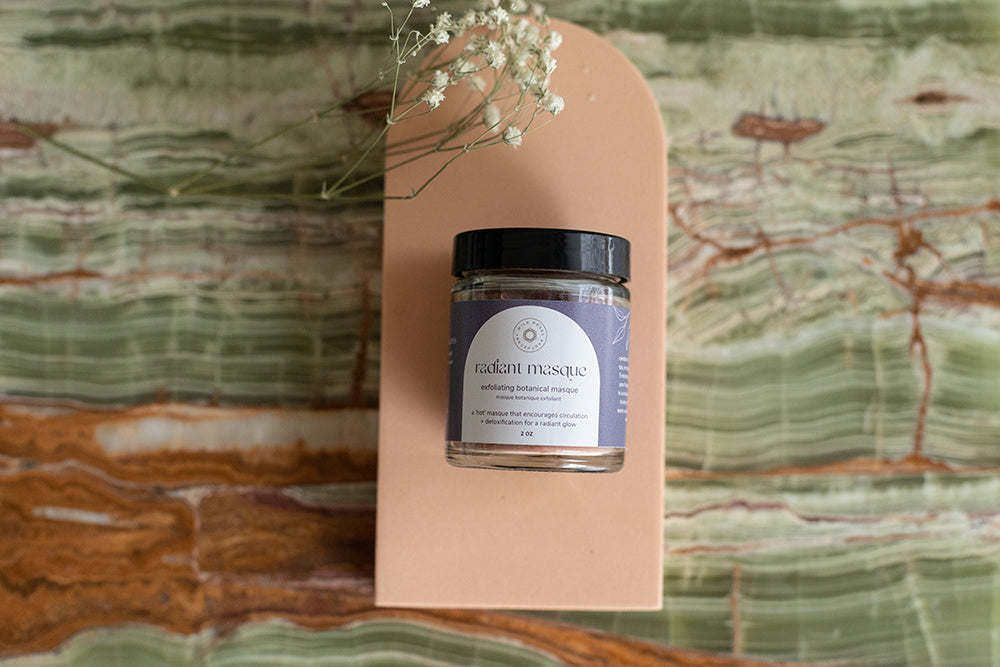 Radiant Exfoliating Masque
Gently heats + stimulates while super fruits plump + rejuvenate the skin. Our signature 'hot masque', the addition of cinnamon stimulates skin's circulation and encourages a a healthy glow. Formulated for youthful aging and normal/combination skin types - not recommended for sensitive skin.

Size: 2oz
pink clay, seabuckthorn (hippophae rhamnoides) extract*, rosehip (rosa canina) extract*, cinnamon (cinnamomum verum) powder. *certifed organic
If you are not happy with your product, please contact us and we will exchange or provide a full refund on all products, excluding herbal teas or edible products, or opened products.  Please note that ELLE WELLNESS is not responsible for shipping fees associated with the return.
in your hand or a small bowl, combine 1 tsp. of botanical masque with 2 tsp. of water, tonique, or other floral water. Mix until it forms a paste.
Apply onto the skin using your fingertips and apply in a circular motion, avoiding your eyes. allow to dry on the skin before washing off with warm water. follow up with tonique and facial elixir. Use up to 3x per week.