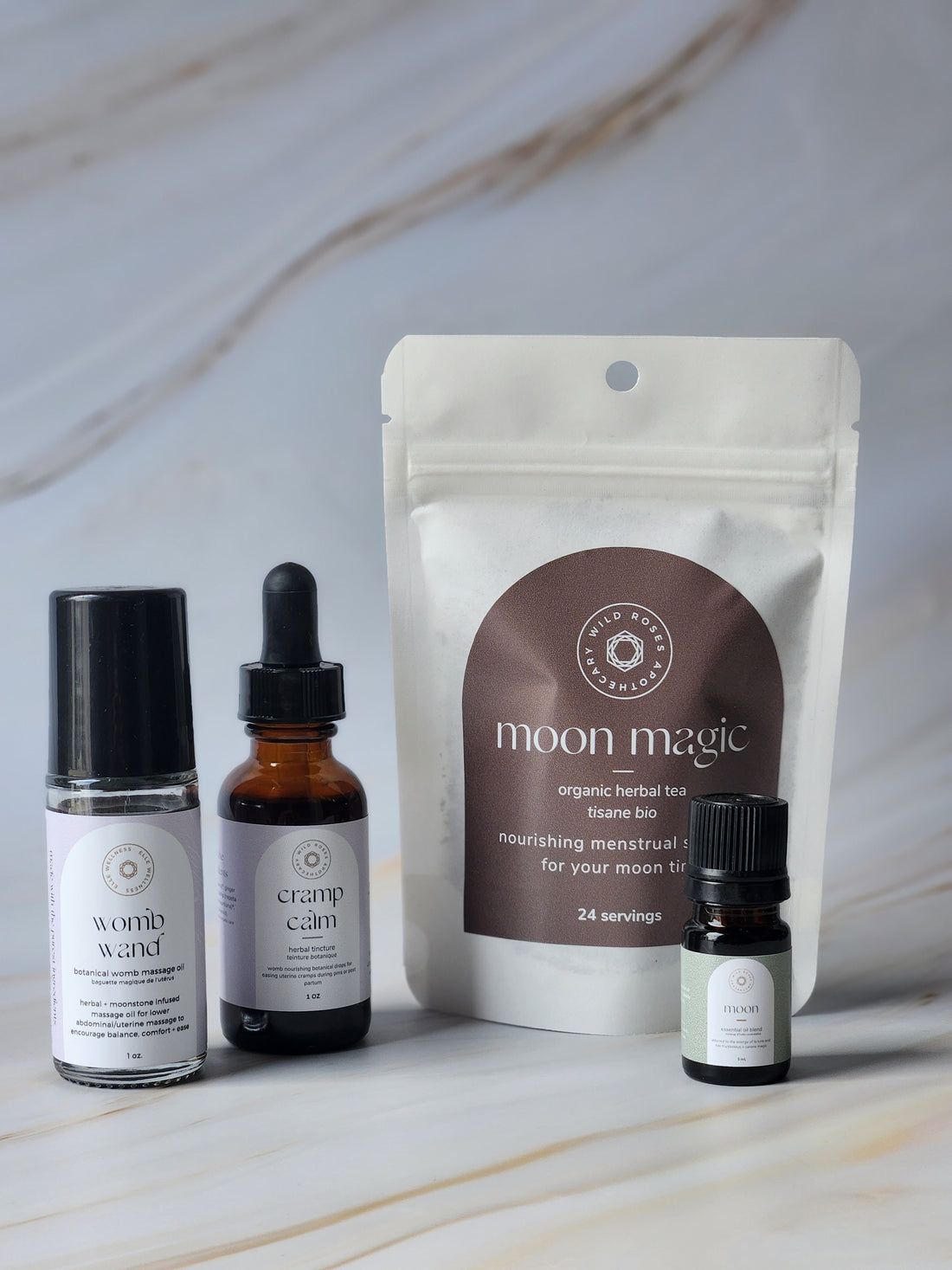 The Moon Medicine Bundle contains all of the botanical potions to nourish and bring ease to you on your moon (or post-partum). 
The Moon Medicine Bundle would be an incredibly thoughtful resource for:

A Menarche Ceremony for someone's first bleed
As a post partum gift, Mother Blessing Ceremony or Baby Shower
Someone who is looking for support for menses, or wanting to more deeply connect to their inner cycles
Moon Magic Tea: organic botanicals of Nettle Leaf, Raspberry Leaf, Vitex Berry, Cramp Bark, Hibiscus, Cinnamon, Ginger Root and Rose Petal.

Moon Essential Oil: Essential oils of lavender (lavendula angustifolia), mugwort (artemisia vulgaris), chamomile (matricaria chamomilla), bergamot (citrus bergamia), cedarwood atlas (cedrus atlantica), neroli (citrus aurantium).

Womb Wand: grapeseed oil, cramp bark (viburnum opulus), red raspberry leaf (rubus ideaus), red clover flower (trifolium pratense), clary sage (salvia sclarea) essential oil, rose geranium (pelargonium graveolens) essential oil, ginger (zingiber officinalis) essential oil, frankinscense (boswellia serrata) essential oil, marjoram (origanum majorana) essential oil, yarrow (achillea millefolium) essential oil, chamomile (matricaria chamomilla) essential oil, lavender (lavendula angustifolia) essential oil, moonstone crystal.

Cramp Calm Tincture: cramp bark (viburnum opulus), ginger root (zingiber officinale), catnip (nepeta cataria), jujube,(ziziphus mauritiana) dong quai (angelica sinensis) 1:2 ratio in organic cane sugar alcohol.


If you are not happy with your product, please contact us and we will exchange or provide a full refund on all products, excluding herbal teas or edible products, or opened products.  Please note that ELLE WELLNESS is not responsible for shipping fees associated with the return.